SportHill Factory Direct Sale during NCAA Championships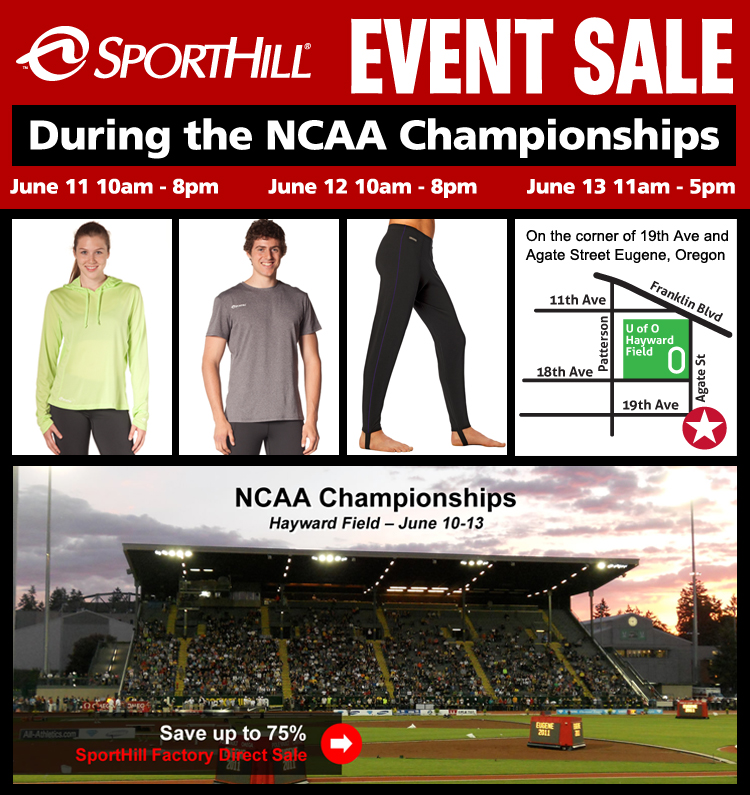 The 2015 Division I Men's & Women's Outdoor Track & Field Championships will be held in Eugene, Oregon on June 10-13. SportHill is hosting a Factory Direct Sale near the track in honor of this event.
Eugene, OR- June 1, 2015– The NCAA Outdoor Track & Field Championships will held June 10-13 in Eugene, Oregon. This four-day event brings in top collegiate athletes and teams from all over the country to compete at historic Hayward Field. The Eugene area has been a track mecca for years and this event will attract fans from both this region and nationally. Likewise SportHill athletic wear has been supportive of the National Collegiate Athletic Association and it's positive message for athletes of all ages. SportHill founder, Jim Hill, is a former NCAA track and field competitor and believes that without such a well-supported program he would not have either continued on in his sport or gotten his start in the manufacturing of athletic wear. To celebrate this event, the SportHill Factory Direct Sale will be held within walking distance of the NCAA Championships in Eugene this June.
"I ran NCAA track and cross country and loved every minute of it," Jim Hill says. "Traveling all over the country and meeting other athletes with a love of the sport meant everything to me. There is something about competing at that level which never leaves you. I can still feel that drive and passion when I see those young athletes step up to the blocks. We like to do a sale every year at SportHill, but this year we wanted to time it in conjunction with this event so that athletes, their families, and fans can buy great athletic clothing at great prices."
SportHill embodies an ongoing journey that began in Virginia where Jim Hill was born. Going from the hot and humid climate of Virginia to the cold and rainy weather of Oregon for college made him realize that running clothing was unsuitable for most conditions the athletes faced. As Jim traveled to other areas of the world, he found that they were likewise devoid of the type of athletic wear he was looking for, so he began to make his own. His desire is to create clothing that meets the demands of both world class athletes as well as recreational runners and outdoor enthusiasts.
SportHill will be bringing its high performance clothing to the NCAA event in its Factory Direct Sale. All items will be on sale, many at discounts up to 70% off, for the three day event. Athletes, their families, and Eugene locals are all invited to come to the booth and purchase top quality athletic apparel at amazing prices.
2015 Division I Men's & Women's Outdoor Track & Field Championships will be held in Eugene on June 10-13.
Dates and Times of Factory Direct Sale:
June 11th 10am - 8pm
June 12th 10am - 8pm
June 13th 11am - 5pm
Location:
Sun Automotive lot on corner of 19th and Agate Streets.
1905 Agate St.
Eugene, OR 97403
(1 ½ blocks south of Hayward Field, across from Prince Pucklers Ice Cream shop)